Western Area Championships - Salcombe YC
Event Details
Date/Time

Saturday, October 28, 2017

Notice of Race

Non Available Yet

Event Categories

Western Series


Sailing Instructions

Non Available Yet

Venue Address

Cliff House
Cliff Road
Salcombe

TQ8 8JQ


Contact

Club Telephone

Club Website

Club Email
Western Area Championships - Salcombe YC - Report
SOLO WESTERN AREA CHAMPIONSHIPS
The Western Area Series ended at the weekend with The Area Championships at Salcombe Yacht Club 
Full Set of results posted under Events.
by Simon Dobson today at 11:07 am28-29 October 2017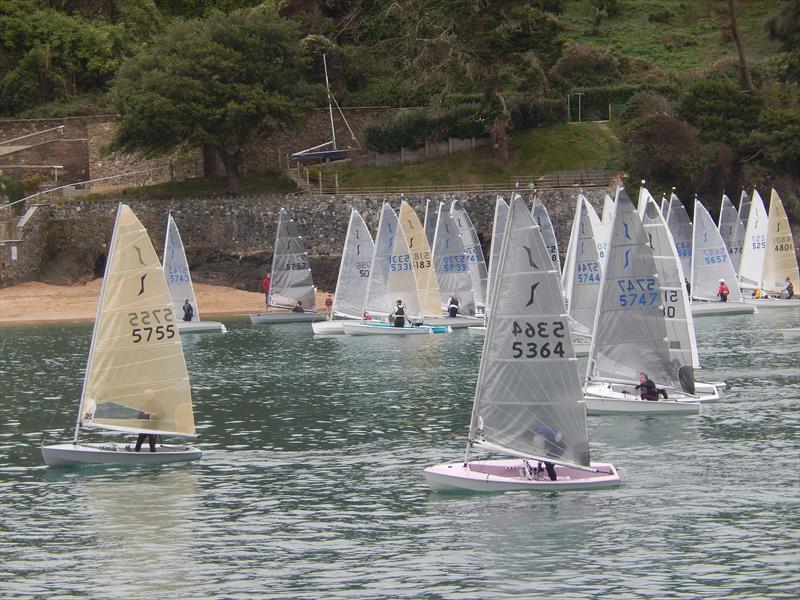 Solo Western Championship at Salcombe © Margaret Mackley
Saturday saw a dreaded north-westerly wind present Race Officer Martin Payne, himself a former Solo National Champion, with a course setting headache that he solved by laying a temporary mark in Yalton Creek and sending the fleet on a couple of laps between that and Crossways before a trip to Gerston and home. A flat calm on the start line made getting away against the tide very difficult and those that were able to gain an early advantage by and large held on to it until the finish. John Reed, a visitor from Bough Beech looked to have the race wrapped up when he rounded Gerston with a comfortable lead but in Salcombe the contest is never over until the finish, especially in a north-westerly and as the fleet entered the light and flukey stuff close to the line Paul Ellis snuck through to steal victory. Iain McGregor was third. The second race of the day saw a more conventional course to Gerston via Crossways, followed by a loop to Saltstone and back to Gerston and from there to the finish. Once again, getting away from the dead zone on the start line was crucial and this time Paul Ellis won that battle and established a lead that he would never relinquish. Behind him Tim Law and Paul Rayson filled the remaining podium positions.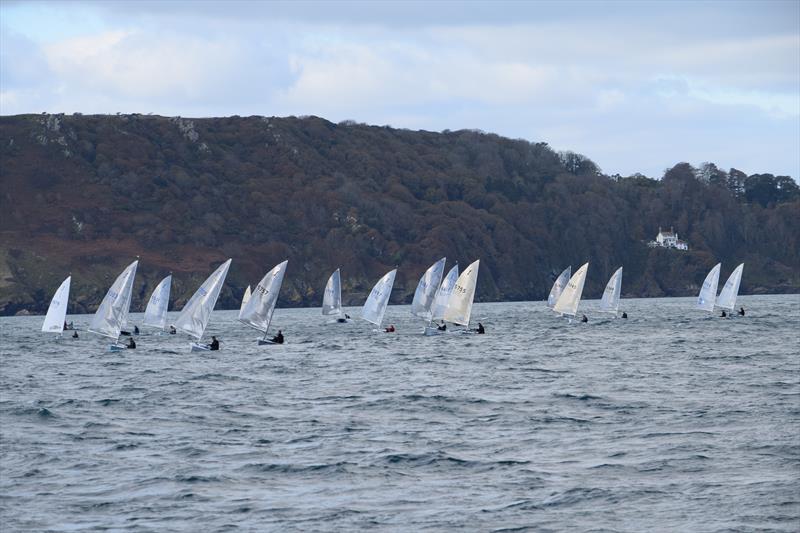 Solo Western Championship at Salcombe - photo © Alan Walker
Sunday dawned grey and drizzly with a light breeze still blowing from the northwest but as the morning progressed the skies cleared and the breeze freshened so that by late morning the fleet was enjoying some fabulous racing conditions in the vicinity of Gammon Head. The first race saw the wind veer right just before the starting gun making the committee boat favoured and leaving those at the pin end with plenty to do. The early running was made by Steve Conroy, Tim Law and Paul Ellis. On the second beat there were large variations in wind strength and direction across the course with the middle least favoured. Tim Law suffered here whilst others prospered, most notably North Sails man Nick Bonner who made huge gains out to the left to round in second behind Conroy. On the final beat the wind strengthened and Bonner and Ellis passed Conroy. This result meant that Paul Ellis had taken the Championships with a race to spare.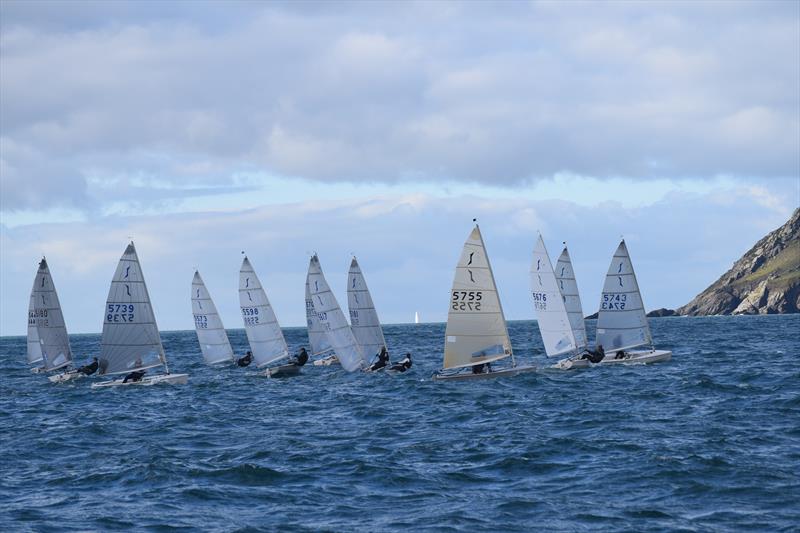 Solo Western Championship at Salcombe - photo © Alan Walker
In the final race, Tim Law made an excellent start and sailed away from the fleet for a comfortable victory that ensured he took second overall. Behind him Paul Rayson came through to take second place with Bonner third. This gave Rayson third overall with Bonner fourth.
Sincere thanks to Martin Payne and the race team. Special thanks to Peter Cook our results officer and to Adrian Griffin our excellent Solo fleet captain. Also to Coast and Country Cottages, our sponsors and purveyors of fine holiday lets in Salcombe.
Western Area Championships - Salcombe YC - Results