Dalgety Bay SC Open
Event Details
Date/Time

Saturday, May 22, 2021

Notice of Race

Non Available Yet

Event Categories

Scottish Series


Sailing Instructions

Non Available Yet

Venue Address

The Wynd
Dalgety Bay
Dunfermline
KY11 9SJ


Contact

Club Telephone

Club Website

Club Email
Dalgety Bay SC Open - Report
HD Sails Scottish Solo Travellers at Dalgety Bay Sailing Club
by Ross Watson 25 May 08:22 BST22 May 2021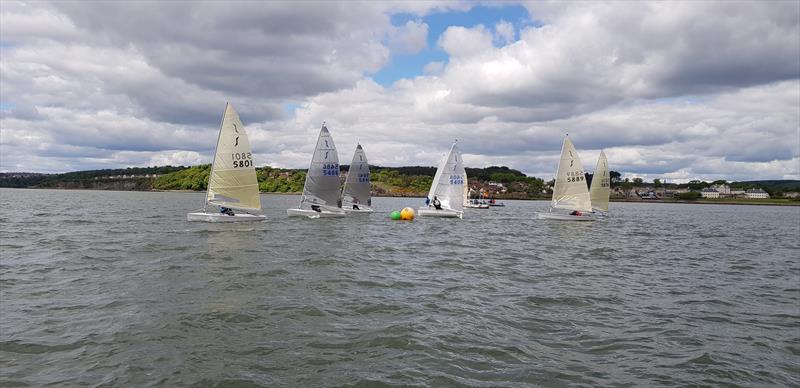 HD Sails Scottish Solo Travellers at Dalgety Bay © Glenn Halstead
After over 18 months of inaction the Scottish Solo fleet were finally able to enjoy our first HD Sails travellers event at Dalgety Bay SC.
This is a big dinghy sailing club on the North side of the Forth but not one the class had been to for some years. Big civil engineering works on the beach meant that space ashore is restricted but there was ample for us. The wind was W/NW force 2/3 all afternoon with plenty of shifts to cope with.
The chat in the dinghy park before launching was all about how unfit and out of practice we all were. Paul McCombie from St Andrew's reckoned he had not sailed since the last event in October 2019. Results on the water were to show the advantages of this approach! We welcomed newcomer Charlie Bracknell to the fleet who had travelled down from the north of Scotland.
We were starting just after high water but the ebb was surprisingly strong and there was a short delay to get the committee boat to hold position. Race 1 and we away with only David Sword over early. Kevin Gibb led the fleet around the first lap but then headed for the wrong leeward mark. This led to a shuffling of positions and Kevin lost several places. Paul McCombie took over the lead and held this to the finish, keeping to the right side of the beat to avoid the tide. With the adverse tide and a shifting wind judging the lay line was critical all afternoon. Plenty boats over stood although Willie Todd seemed to judge it well on most beats. A right hand shift on the last beat took Ross Watson up to second with Tony King third.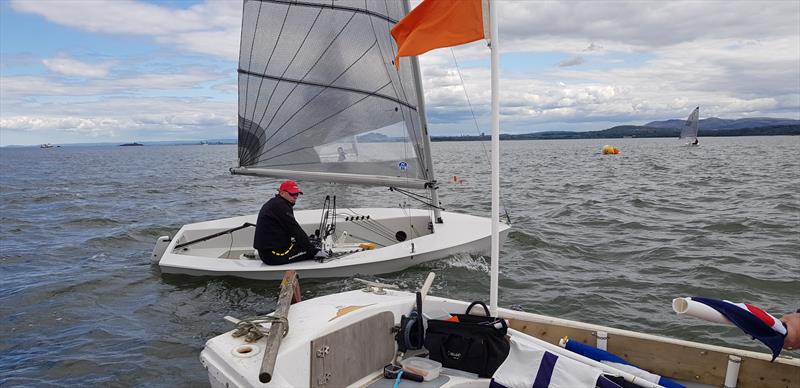 HD Sails Scottish Solo Travellers at Dalgety Bay - photo © Glenn Halstead
In race 2 Kevin Gibb made no mistake and remembered the course as he led throughout. He was sailing the class demo boat showing how fast it remains. Paul McCombie sailed consistently fast to take second whilst Ross Watson took third.
In the race 3 David Sword clearly got his new HD sail working as he led from the start. Tony King was consistent and took second ahead of Paul McCombie. We sailed ashore after three good races but with aching legs after more exercise than many of us had had for a very long time!
Overall Paul McCombie was a clear and deserved winner, proving that lack of practice on the water is no handicap to success. Behind him there was a three way tie for second which went in favour of Kevin Gibb followed by Tony King, making his journey from Bassenwhaite worthwhile. As always there was tight racing throughput the fleet with mark rounding tight. The next event in the HD Scottish travellers series is at Newburgh in early June with very different conditions in the narrow river.
Overall Results:
| Pos | Sail No | Helm | R1 | R2 | R3 | Pts |
| --- | --- | --- | --- | --- | --- | --- |
| 1st | 5777 | Paul McCombie | 1 | 2 | ‑3 | 3 |
| 2nd | 5803 | Kevan Gibb | 4 | 1 | ‑7 | 5 |
| 3rd | 5408 | Tony King | 3 | ‑4 | 2 | 5 |
| 4th | 5841 | Ross Watson | 2 | 3 | ‑8 | 5 |
| 5th | 5486 | David Sword | 5 | ‑6 | 1 | 6 |
| 6th | 5801 | Willie Todd | ‑6 | 5 | 6 | 11 |
| 7th | 5876 | Patrick Burns | 7 | ‑8 | 5 | 12 |
| 8th | 5889 | David Parkin | ‑9 | 9 | 4 | 13 |
| 9th | 4975 | Charlie Brecknell | 8 | 7 | ‑9 | 15 |
Dalgety Bay SC Open - Results