Home

/

News

/

Vintage Tour 2021 and the CB Coverstore Classics
Vintage Tour and CB Coverstore Classic
Thursday, January 28, 2021
The NSCA will be holding the Vintage 'Tour' in 2021 which provides competitors with the opportunity to get into the Solo open meeting circuit at a very affordable price. While both fleets will race as one it is hoped that older examples of the Solo will attend.
Any non-FRP Solo built before hull number 4328 (as of January 1st) is deemed as Vintage (20 years and older) and there are some fine examples across the UK. While not as competitive as the modern 'all singing and dancing' FRP Solo, they still provide fun and excitement for the enthusiastic beginner, club stalwart and those with limited funds.
The Vintage Championship will take place at Leigh on Sea, sponsors to be confirmed.

A 'Classic' wooden Solo, number 4040 - photo © Will Loy
As an extra incentive for those who possess the quintessential Classic - and by definition I refer to Classics as Solos of any age constructed in wood - CB Coverstore are proud to announce that any Classic that qualifies in the below events will be entered into a draw at the Inland Championship and the winner will win a CB Coverstore lightweight Alloy trolley.
Chris Brown, CEO of CB Coverstore writes, "I am keen to see these lovely wooden Solos out racing and have arranged for some areas to have their own mini-series (see future notice boards for details). I believe the 'Classic' beautiful examples, which were once cutting edge in design and are now lovingly maintained by Solo sailors who are true enthusiasts should be acknowledged accordingly. The alloy trolley will make launch and recovery easy and allow the sailor more energy to polish the varnish."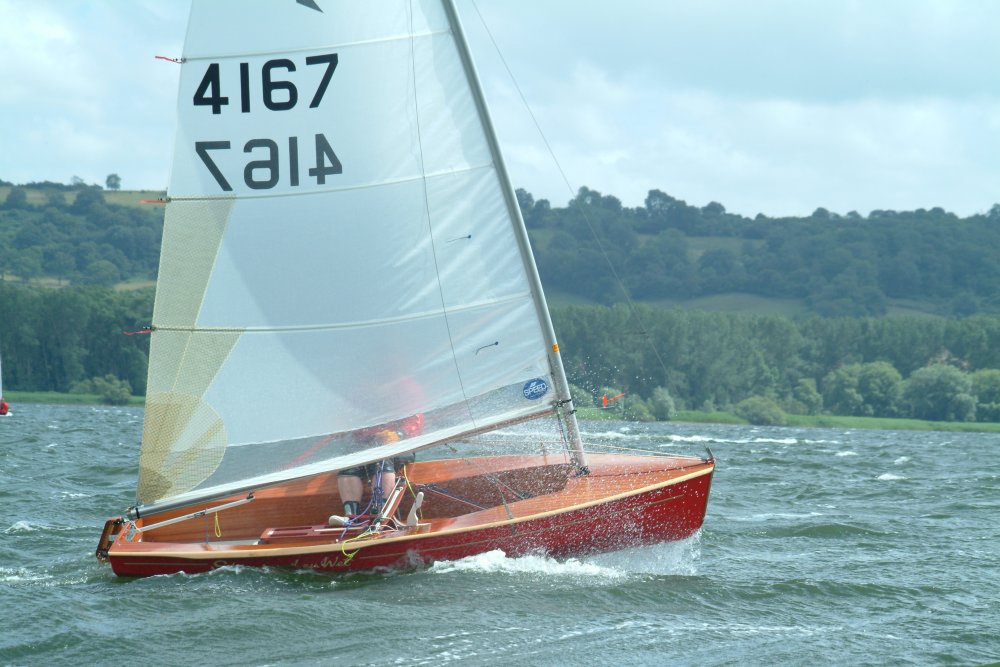 Paul Isherwood blasting at the Chew Valley Lake Solo Open - photo © Primrose Salt
While a great many classics are too young to qualify for the Vintage criteria, having a wooden Solo, whatever age gives you the opportunity to show off your pride and joy to the FRP brigade.
Three events to qualify: (please check before travelling)
Scottish circuit - Newburgh June 5th
Midland circuit - Northampton June 5-6
Southern circuit - Lymington June 5-6th
Northern circuit - Shotwick June 5th
Western circuit - Dittisham July 3rd
Vintage Championship - Leigh on Sea June 26th (not including Classics built after Solo 4328)
Eastern circuit - Brightlingsea September 4th
Inland Championships - Grafham Water September 18th
Eastern Circuit - Broadwater September 25